The fields of aviation and aesthetic medicine could hardly be further apart, but one pioneering doctor hasn't let that stop him. Dr Reza, one of South Africa's most successful cosmetic surgeons, has designed and patented an aeroplane that is the first of its kind in the world.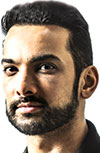 Dubbed the Pegasus Vertical Business Jet (VBJ1), the aircraft aims to combine the best features of a helicopter and a business jet. In fact it would be the first ever civilian business jet with vertical takeoff capability ever made, targeting clientele such as government operations, companies, VIPs, medical evacuation, anti-poaching, offshore and resource development, as well as A-list business executives, politicians and celebrities.
"The idea started as a spark of inspiration at some point, and over time I researched each aspect of it to make sure I wasn't wasting my time," Reza explains. "This involved working with engineers to do feasibility studies, as well as market research and financial modelling. As we kept finding positive answers we continued going forward in the process step by step."
According to Reza, what makes the VBJ1 special is its combination of the efficiency and convenience of a helicopter, with the speed, safety and range of a business jet. "In fact it boasts more range than a similar sized business jet," he says. "It is able to take off vertically like a helicopter from any helipad (subject to similar conditions such as safe surrounding area), and then transition into jet mode and fly at 800 km/h for 6,5 hours. If taking off from the US this is enough range to cover the whole continent."
For now the engineering side of the project is being handled on a consulting basis, but it is planned to bring engineers in-house to work full time as from this November. Needless to say it involves a multi-disciplinary engineering effort between experts in their respective fields, but Reza is confident that South Africa has the engineers to take on the challenge. "We definitely have the engineering talent in SA to pull this off. We might need some outside advice on control systems and automation, but otherwise we have everybody here," he enthuses.
At this stage some simulations have been performed, and Reza explains that the reason a project like this is affordable is because nowadays most of the development can be done on a computer using computational fluid dynamics (CFD) which acts like a virtual wind tunnel. In this way Pegasus Universal Aerospace can be confident that by the time it builds a full-scale model, it will be good enough for flight testing and even to sell on as an initial sales model.
Funding is currently being secured for the VBJ1, and if it were secured immediately the company would expect to be able to have a prototype built and doing flight testing within three years, and delivering to customers within five years.
"Because we have a CIPC approved prospectus and we're a public company we are allowed to advertise to anyone in the public space, so we're looking at the financing side as a kind of crowd funding effort which is another novel side of the company. Anyone can get involved for a R2000 share by following the links on our website, and they can also follow our progress on Instagram @pegasus_ua," Reza says.
Unfortunately, DTI funding is not a likely avenue, as Reza explains that this would only be available later in a project. "What they want is technology readiness level 3 to 4 and above, which is prototype stage. In the aviation sector this doesn't really help us, because by the time you have a prototype you can already start taking customer deposits because they can see the plane fly," he explains.
Although he doesn't rule out the possibility of selling Pegasus' patents to a large overseas aircraft manufacturer, Reza says the company would ideally like to take the project on itself and keep it as an SA-made project. "As far as possible we would like to do all manufacturing in SA. Because we have a bilateral agreement with the US (which is 50% of the business jet market) we should be able to manufacture here and export to the whole world," he concludes.
For more information contact Pegasus Universal Aerospace, +27 11 483 0881, info@pegasusua.com,www.pegasusua.com
10 October 2018, This Week's Editor's Pick, News
By Brett van den Bosch